#74. Gold coins in denominations of $1, $2.50 ("Quarter Eagle"), $3, $5 ("Half Eagle"), $10 ("Eagle"), and $20 ("Double Eagle") were used from 1795 until 1933.

How to Get Involved in Politics When You're too Young to Vote
Here are a few ways to make your voice heard, before you ever vote.
High school is a strange time. You're often directly affected by the decisions of policymakers. You're paying taxes, filling out draft cards, and applying for federal loans for college. All with no say in the policies that affect those parts of your life. But just because you're not old enough to vote doesn't mean you can't make your voice heard. Here are a few ways you can get involved and, more importantly, make your voice heard before you can cast a vote.
Know who your legislators are and how to get in touch with them.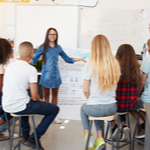 Even if you don't have anything specific to talk about, you may want to establish contact. When asking for a recommendation for college, it's better they know something about you. If you plan to attend a military academy, you're going to need a nomination from one of your congressional reps.
Get involved in local politics.
Go to city council meetings, volunteer with the mayor's office, or attend school board meetings—these are the people most directly affecting your life. These meetings may not get all the attention on the nightly news; however, your local government plays a much bigger role in your life than you realize. You'll learn a lot in a very short time by getting involved.
Join the local youth chapter of whatever political group you feel fits your ideals best.
It doesn't have to be one of the two major parties, and you don't have to decide the moment you walk in the door. In fact, if you really want to participate in a modern democracy, it might be better to explore options and see what each group is about.
Is it campaign season?
That's a trick question, because it's always campaign season in America. If you find a candidate you feel like supporting, volunteer for their campaign. Even if they lose, you'll still get some interesting work experience. And if they win, your volunteer work might open doors for potential college internships or maybe staff positions later down the road.
Help others vote.
Don't want to associate with any political party or politician? You can still be involved by helping to register voters or volunteering at a polling location. EAC.gov is full of resources to learn how to register to vote, and how to volunteer for your local elections.
Educate yourself.
Read your local newspaper. Learn about the foundation of our country and how our political system works. Find out what bills are currently up for a vote and read up about them and their potential impact on your life.
If you're looking for more information on when you can register, check out USA.gov/voter-registration-age-requirements. Because of the nature of elections in the U.S., every state sets its own rules, as long as they meet the minimum standards.
So even if you can't vote yet, you still live in the area elected officials serve. It's their job to listen to you and help you. But it's up to you to do the initial leg work. If you don't reach out, then the conversation will never start. Call, text, email, and show up to town halls. Bonus: a lot of town halls have snacks.